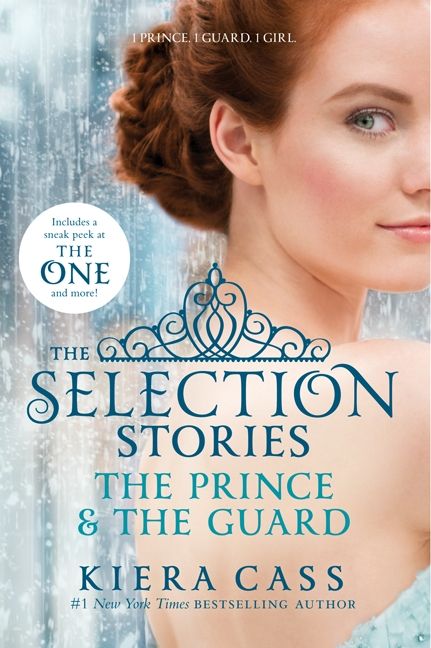 Verlag: HarperTeen
Datum: 4. Februar 2014
Seiten: 240
Reihe: The Selection Stories
Inhalt:
Before America arrived at the palace to compete in the Selection, there was another girl in Prince Maxon's life. The Prince opens the week before the Selection begins and follows Maxon through the first day of the competition.

Raised as a Six, Aspen Leger never dreamed that he would find himself living in the palace as a member of the royal guard. In The Guard, readers get an inside look at Aspen's life within the palace walls—and the truth about a guard's world that America will never know.
Meine Meinung:
Das Cover von diesem Buch gefällt und ich finde es passt auch zum Rest der Reihe. In diesem Buch geht um die Selection Reihe und ist als Zusatz für Fans gedacht. In diesem Buch wird die Geschichte aus dem ersten Band erzählt, aber aus der Sicht von Maxon und Aspen.
Bei der Geschichte von Maxon bekommt der Leser einen Einblick hinter die Kulissen von The Selection. Als Leser erfährt man von der Vorbereitungen die im Palast stattfinden und auch wie Maxon sich fühlt und wie er denkt. Die zweite Geschichte wird aus der Sicht von Aspen erzählt und sie spielt mitten in der Auswahl. Ich fand es super interessant zu lesen, wie er denkt und wie tief seine Gefühle für America sind.
Der Schreibstil ist wie bei den Büchern der Reihe einfach super und es macht sehr Spaß es zu lesen. Die Charaktere sind einem schon bekannt und man mag sie einfach. es ist schön die Geschichte auch mal aus einer anderen Sicht zu sehen.
Fazit:
Ein schönes Buch und ein muss für jeden Fan der Reihe, denn hier bekommt der Leser nochmal eine andere Sicht auf die Geschichte. Außerdem erfährt man einige Sachen, die in der Reihe nicht erzählt werden.
Ich gebe dem Buch 5 von 5 Punkten.
Reihenfolge:
5. Die Krone (25. August 2016)